Serbian FBReporter in English
History Of Asia Minor: 1894-1923
During 1894-1923 the Ottoman Empire conducted a policy of Genocide of the Christian population living within its extensive territory.  The Sultan, Abdul Hamid, first put forth an official governmental policy of genocide against the Armenians of the Ottoman Empire in 1894.
Systematic massacres took place in 1894-1896 when Abdul savagely killed 300,000 Armenians throughout the provinces.  Massacres recurred, and in 1909 government troops killed, in the towns of Adana alone, over 20,000 Christian Armenians.
When WW1 broke out the The Ottoman Empire was ruled by the "Young Turk" dictatorship which allied itself with Germany.  Turkish government decided to eliminate the whole of the Christian population of Greeks, Armenians, Syrians and Nestorians.  The government slogan, "Turkey for the Turks", served to encourage Turkish civilians on a policy of ethnic cleansing.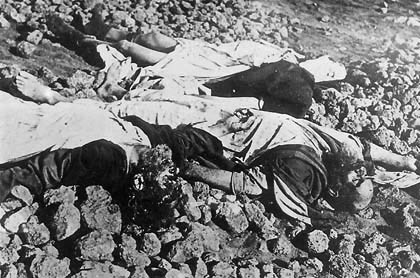 The next step of the Armenian Genocide began on 24 April 1915 with the mass arrest…
View original post 5,184 more words